The aims of the members of "Nós", with their wide intellectual background, were to eliminate the folkloric nature from the Galician culture by updating it, standardising it and making it widely known. The journal carried articles by foreign writers (Portuguese, Irish, Catalan, French) who kept it in touch with European thinking, as well as translations and articles on both scientific subjects -such as archaeology, ethnography, anthropology, sociology- and literary subejcts.

The use of Galician in scientific studies was fostered with the creation of the Seminar of Galician Studies (1923) which carried out research into Galician subjects and studied all its manifestations. It was founded by a group of young university students -Fermín Bouza Brey, Filgueira Valverde, Lois Tobío- and they were soon joined by others such as Ricardo Carballo Calero, Antonio Fraguas, Xaquín Lorenzo.

The literary works of these intellectuals, who recovered fields such as essay-writing thus opening up new horizons, gave Galician prose a degree of full development and introduced Galician culture into the European context. Arredor de si, Devalar, Os camiños da vida by Ramón Otero Pedrayo and Os europeos en Abrantes, O porco de pé by Vicente Risco, are titles which enriched our literature -by covering universalist, legendary, exotic or urbane subjects and philosophical thinking- using new creation techniques which were being applied in European literature.

The weak tradition in theatrical writing received a great impetus from the creation by the "Irmandades" of the "Conservatorio Nacional de Arte Galega" in 1919, which soon changed its name to "Escola Dramática Galega".

The avant-garde movements in Europe did not remain foreign to Galician writing. The authors of the so-called "Xeración do 25" (Generation of 1925) -Manuel Antonio, Amado Carballo, Bouza Brey- showed a great concern for creative originality which led them into open conflict with traditional poetic forms.

The versatile figure of Castelao deserves special mention. He became a classic in Galician literature in all the areas he was involved in: novels, plays, short stories and political essays -Sempre en Galiza, the masterwork of Galician nationalism- and other works which reflect his capacity as both artist and writer. Castelao achieved great political significance as a result of his essay-writing and his active and direct participation in the politics of the country (Member of the Parliament under the Republic for the Partido Galeguista).

This party was created in 1931 and achieved the passing of the Statute for Autonomy for Galicia, in which the Galician language for the first time acquired recognition as the "official language of Galicia". This very important achievement was never put into practice because of the start of the Civil War (1936) and the most difficult stage for the non-official languages of the Spanish state.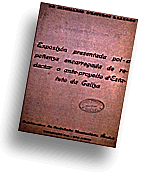 Draft bill of the Statute
for Autonomy for Galicia,
carried by the Seminar
of Galician Studies.