The consolidation of democracy laies the foundations of the normalization of the Galician languages.

Under the democratic régime, Galicia became an Autonomous Community with two official languages -Galician and Spanish. In 1983 the Galician Parliament passed the "Law for Linguistic Standardization" which became an essential tool for our linguistic rights.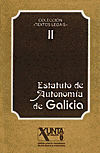 The Statute of Autonomy
states that Galician is
"Galicia's own language".